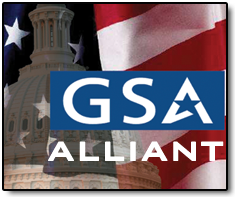 GSA Alliant (Large Business)
GSA Alliant is the largest GWAC Vehicle issued by GSA to date. The Alliant Program is specifically designed to support government-wide fiscal challenges with a variety of options and cost-effective pricing. Alliant encompasses unlimited IT hardware and software solutions and services.
Alliant Benefits and Features: Open to all Federal Government agencies worldwide; Flexibility in contract types; Ten-year Multiple Award/Indefinite-Delivery, Indefinite-Quantity; Ability to support CONUS and OCONUS IT requirements; Choice of 80 labor categories; Reduced procurement lead times and administrative costs; No dollar value limit on task orders.
Features and Benefits
Alliant is open for use to all Federal and Department of Defense Agencies Worldwide. GSA can assist agencies with their orders, or agency contracting officers with a delegation of procurement authority can order directly from the contract.
Overall, Alliant is the most comprehensive and flexible contract vehicle.
Alliant is a 10 year (five-year base period with one five-year option) and has been awarded to 59 companies.
Alliant's streamlined ordering procedures are based on "best value" of the FAR 16.505 Fair Opportunity process.
Alliant provides a choice of 80 labor categories
Alliant has no dollar value limit on task orders up to contract ceiling limit of $50B
Alliant is compliant with Section 863 of National Defense Authorization Act (NDAA) 2009
Alliant orders of $10M or less are not protestable (except for deviations from scope, period, or contract ceiling).
Alliant's Contract Access Fee (CAF) of 0.75% is capped at $150,000 per task order per year
Since Alliant is aligned with FEA/DoDEA and conforms to OMB policy for IT investments it evolves as technology expands. This means that as the definition of IT changes over the life cycle of the Alliant Contract, the scope will be considered to coincide with the current definition of IT at any given time. This feature paves the way for long-term planning of large-scale programs and integrated solutions.
Alliant maintains streamlined ordering procedures to facilitate short lead time acquisitions and cost savings and is ideal for requirements that support the American Recovery & Reinvestment Act
Alliant awardees may subcontract to provide a total solution, small business subcontracting goals = 50% of subcontracted dollars